I Should've Brought Tissues
In retrospect, it was stupid of me not to bring tissues. I can't guarantee that you'll have the profoundly cathartic experience I did at the revival of
The Heidi Chronicles
on Broadway, since you probably didn't have a day job as Wendy Wasserstein's typist for the last five years of her life. But it would really be a pity for you to miss this A-class production of this brilliant play. Do yourself a favor and go. It's special. And Pam MacKinnon's direction is firm, clear, specific and light-handed: exactly the touch that Wendy's plays need.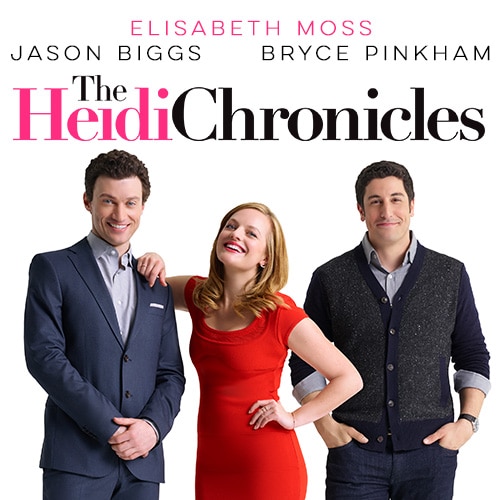 Heidi
starts funny and light and a bit odd. And it does feel dated at first, and not just because the first scene is set in the late '60s. But the amazing thing about theater is that it acts like a time machine: we, today, have a perspective on the '60s, '70s and '80s, just as the audience did that first watched
Heidi
in 1988. It might not be the same perspective as that original audience, but the play educates and triangulates now much in the way it did then, I imagine.
When I directed
Blithe Spirit
at Syracuse Stage last year, I begged Tim Bond, the artistic director, to let me cut it. But he insisted against it. The entertainer in me (the one who learned from Wendy, ironically enough) knew the show could stand to lose around 20 minutes of repetition. But on opening night, the purist in me loved that our audience listened to the exact same words spoken in the exact same order as its original 1945 audience did. Theater doesn't just teach about history in content: it does so by form.
Blithe Spirit
teaches me about what 1945 audiences enjoyed, just as
Heidi
teaches me what a late '80s audience had to learn watching a piece that spanned the last thirty years.
Content Over Form
Although the character Heidi certainly has moments of pro-activity, of temper flaring and ego clashing, I think it would be hard to name a more passive protagonist. Throughout the play, her scene partners (the gay best friend Peter, her on-again/off-again boyfriend Scoop, and her perpetually re-inventing best friend Susan) bulldoze her. If I stumbled upon an individual scene from this play say, in scene study class, I think I'd be surprised to learn that Heidi is the lead.
Her famous soliloquy breakdown, in the third-to-last scene of the play, is really the breakdown that she's been building up to her entire life. But in truth, we see that Heidi can only be the active, have a monologue (let alone a breakdown) when she is the only person on stage. She is a character so used to defining herself as an outsider and as a passive that the only way for her to find the space she needs is for her to be alone. Without a scene partner. Isolation is the price of expression.
As a writing feat, it's an incredible thing, to successfully build a story around a passive protagonist. As a response to the feminist movement, it's an even more astonishing. Although the play makes it clear when Scoop and Peter bulldoze Heidi on a TV Studio Set (II/2) that men are often the guilty parties here, Susan (who's really Scoop's alter ego) is equally guilty of the same crime in the restaurant one scene later.
We Both Must Fade
I know that Wendy has a reputation as a boulevard comedienne. But few writers of that genre crafted plays that spanned 25 years. I met Wendy on
Old Money
, generally considered her least successful play, but one that also showed Wendy's desire to experiment with form (it jumped back and forth 80 years over the course of a dinner party thrown in a robber baron mansion on the Upper East Side). And I can't help but wonder what other experiments in form Wendy might've attempted had she been with us longer. At least, I hope this production ushers in a Wasserstein Renaissance, full of productions that embrace the possibilities of her texts.
A Story About A Woman Who Got Sad
Wendy once said to me, in that wonderful funny/serious/joking/not-joking way she had, that
Heidi
was a play about a woman who got sad. But as someone who'll be turning 40 next year, I feel like I truly relate to Heidi's alienation in a way that I hadn't before. Yes, it's a story about a woman. But its universality lies in the profound 40-something sadness you feel when your friends abandon you for their kids and the suburbs, for their partners or professions, to other cities and states and countries. I recently removed three friends whom I've known for over twenty years from my speed dial because we didn't communicate enough to keep them there for even nostalgic reasons. I don't know what I would do without the guys I met on the Ramblers soccer team, guys on average 10 years my junior, who haven't yet reached that point in their life that they withdraw. And that's the story of
Heidi
: the story of a woman who is about to withdraw in response to the world that has already withdrawn around her, but who finally decides that she can't.
This post would be remiss without two more things:
First, Bryce Pinkham's performance is, well - this is why we go to the theater, folks. He'd start talking and I'd start crying. His scenes with Heidi were sharp, heart-breaking, moving, real. I've seen him on stage three times in the last two years and each time I feel like he's the best that we've got. If you know him, tell him I'm a fan. He's pitch-perfect.
Second, the story of how I scored these tix: My friends Amy Danis and Mark Johannes, who are
MARS Theatricals
, were having lunch with Susan Gallin, one of the lead producers of
Heidi
. They told her about me. Then she emailed me and offered me comps. This is exactly the kind of elegant, classy, random-act-of-kindness thing Wendy herself would've done. Of course, I was going to find a way to see this show, but it probably would've been from the balcony, and it definitely would've set me back at least one hundred bucks I certainly don't have right now (two hundred to take Rafael, who said, "This is one of the best plays I've ever seen in my life."). So thanks Amy, Mark and most of all Susan.
And of course, Wendy. I hear that cackle of your laugh as distinctly as ever. Especially in the theater.